A deeper look inside the Vols' 35-21 victory over NC State.
It was a long, long offseason in Big Orange Country as coaches, players, and fans alike all waited to see how the Vols would look against NC State. Everyone knew Derek Dooley needed a win to curb the wave of negativity surrounding the program. The Wolfpack entered the game with a highly touted secondary that many thought would give Tyler Bray & Company problems.
While the Vols by no means played a perfect game, there was a lot to like, and Dooley's third year squad delivered a breath of fresh air in the form of a 35-21 victory. Let's take a look at some highlights.
Amerson Gets Dusted, Part 1: Cordarrelle Patterson
One of, if not the most, intriguing newcomers to the Vols, it took Patterson all of two series to make a huge impression.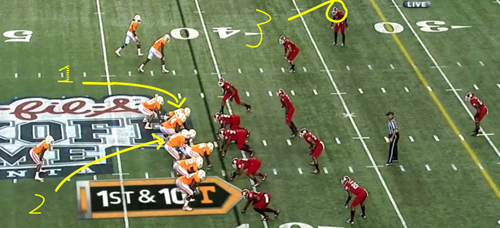 1. The Vols' tight end depth was a huge issue entering the game, and here is one instance in which Dooley and Chaney turned a negative into positive. Alex Bullard might look funny wearing #88, but it's an ingenious way to maximize pass protection.
2. Keep an eye on Dallas Thomas.
3. Notice how deep Amerson is playing off CP, while staring down Bray. This is a dead giveaway that he's playing zone, and at that depth, it's clear that he's the deep guy. So no "where's the safety help over the top?' stuff.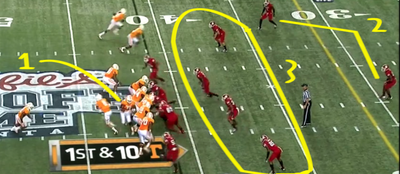 1. Just as UT did on most play action plays, Dallas Thomas pulls from the guard position. This makes it extremely difficult for linebackers to recognize the play action.
2. Amerson and the safety both take backward first steps, indicating Cover 2.
3. NC State's linebackers commit to the run with their first steps.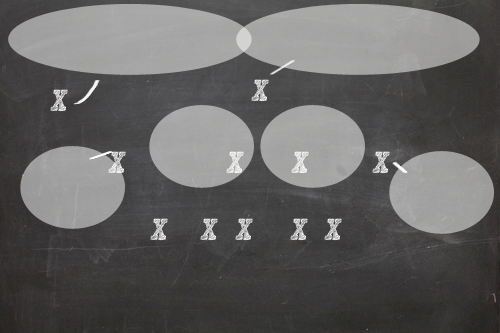 NC State's Cover 2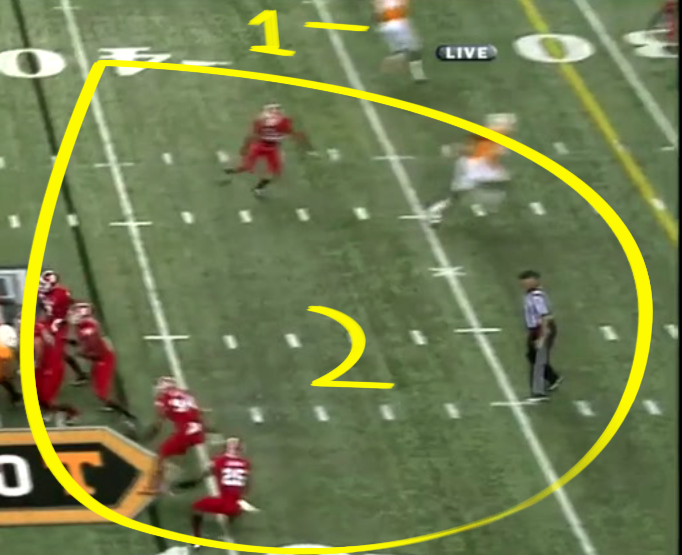 1. CP is on his out, which would've been wide open for a ten yard gain or so. I can't tell for certain that Amerson is biting on the fake from the top right of the screen, but I'd almost hope so. Otherwise he's getting torched straight up, and that's just embarrassing.
2. NC State linebackers are even more committed now, just a fantastic play fake. Hunter across the middle would've been open had Amerson not been made the fool.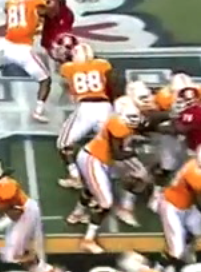 NC State attempted a slight twist stunt, and the pass protection is excellent. The O-line forms a great wall.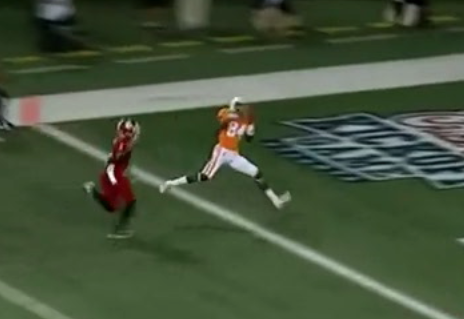 We're picking nits here, but the throw could've been a little deeper. Had CP not toasted Amerson as badly as he did, it could've potentially been broken up. Still a nice ball by Bray.
This was a huge play for CP, and by extension, the Vols, as it got the ball rolling and set the tone for the rest of the game. UT had just completed an out to Patterson a few plays before, it was nice to see Chaney dial up a play that had been previously set up.
Pre Wagg's First Pick of the Season
With UT down 6-7 towards the end of the first quarter, Sal Sunseri's defense needed to make a play. Who better than Waggner, one of the most heady players the Vols have. It ended up being huge for Tennessee as ZRO's touchdown grab came one play later.
1. UT is in a 2-4-5 defense with Maggitt (left) and Jac (right) both playing down.
2. Eric Gordon is clearly manned up on the slot guy. While EG played one of the best games of any Vol on Friday, his aggression could've potentially gotten the Vols in trouble here.
1. Notice Waggner playing press coverage. Expect to see the press a lot this season. Not to be confused as man coverage, he's jamming the receiver off the line, an extremely aggressive move that pays off here.
2. Contrast Maggit and Jac right here. CM has already engaged the tight end, gotten separation and is in perfect position to make a play. Meanwhile Jac has yet to even engage his man. His get-off is exceptional, but he breaks the first rule of pass rushing by not engaging. He's opening himself up to get dominated.
3. Gordon is still locked in on the slot, seemingly in man coverage. He's yet to glance at Glennon.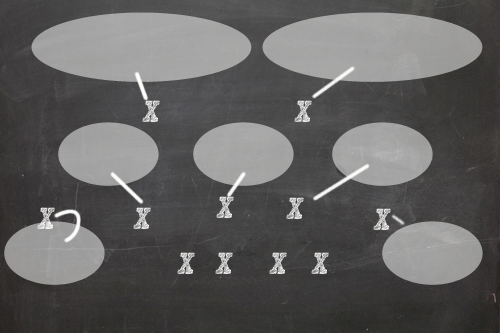 The Vols are in a basic, Cover 2 Zone Press.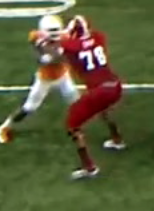 This is what happens when you try to pass rush the way Jac does. The junior made some plays on Friday and there's certain things he does well. We don't think he'll ever be an effective edge rusher, however, if he doesn't change some fundamental things with his technique. He has very little power out of this unstable base and high technique.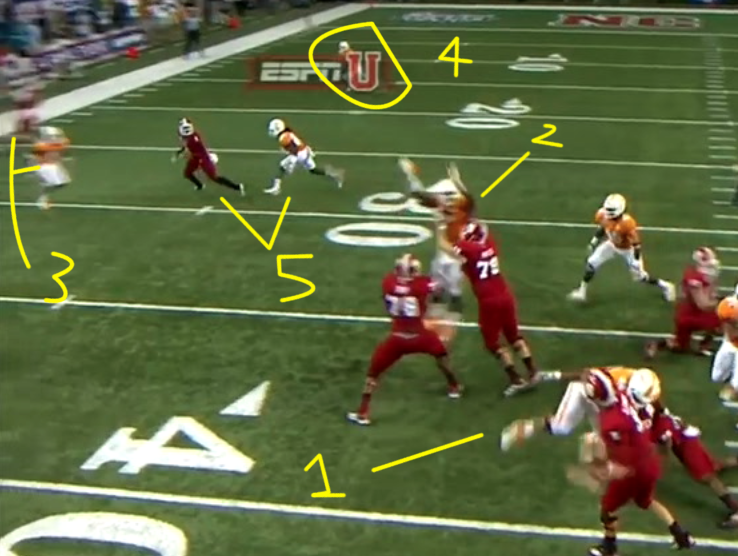 1. Glennon took a quick, three step drop on this play, and notice how quickly Mo Couch penetrates.
2. At least you tried to bat down the pass, Jac.
3. Waggner has let his man release and settled beautifully into his flat zone. Perfect position to make a play. Displaying incredible zone discipline, he jams his man to about 5-7 yards, and then turns back to his area. It's controlled aggression, and it's how you force turnovers.
4. Safety help over the top shows that UT is in Cover 2.
5. If UT were in man coverage on this play, which Eric Gordon seems to think he is, he'd be beaten. Very poor zone discipline, but then again, it's hard to argue with the result. You have to think Glennon sees the separation between his guy and Gordon and thinks he has a quick first down, because Crompton never even forced anything that blanketed (That's speculative and just sounded good. He probably did). No way he saw Waggner there.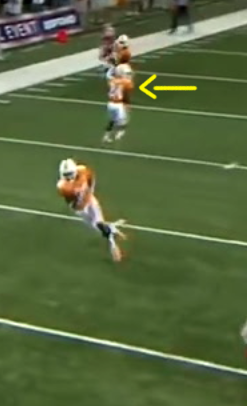 Lost, but you have to admire his motor.
Get some, Mike.
Just a great, veteran play by Prentiss, and we expect him to have a terrific senior season.
Amerson Gets Dusted, Part 2: Zach Rogers
Looking to pounce after Waggner's timely interception, Chaney went deep at Amerson a second time.
1. Tiny Richardson and Juwuan James are putting on a clinic here. Just beautiful pass protection from your monster tackles. Knees bent, keeping the defender close to them, feet moving, and forming a pocket for Bray to step up in.
2. Due to a great route from ZRO, Amerson has his weight on his left foot, allowing White Lightening to motor past him.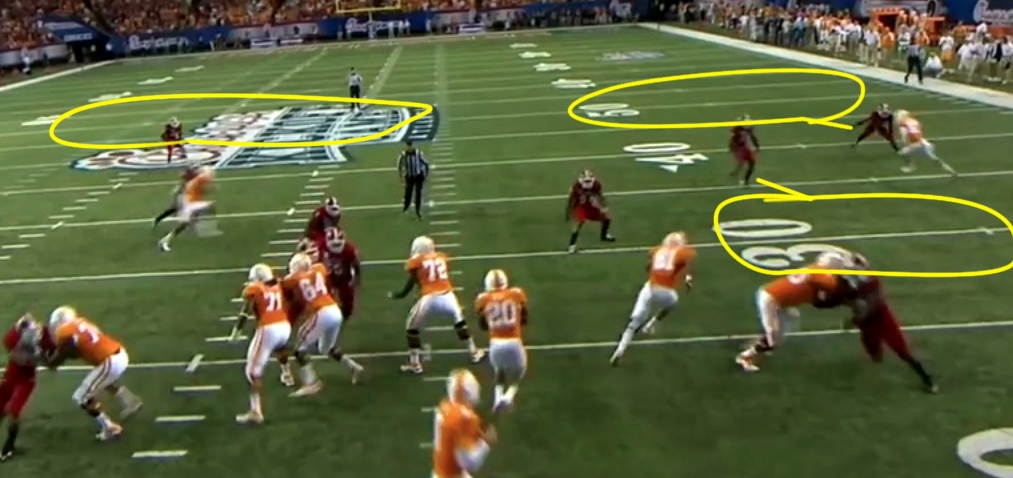 1. Amerson claimed that he thought he had safety help, but he was clearly the deep man in this zone. He also turned and ran immediately with Rogers even though he was already beaten.
1. JJ still holding his block, still providing a great pocket for Bray.
2. Stick a fork in David Amerson. Is this what a top 10 pick looks like?
Another great call by Chaney. We love his aggressive style and scheme.
Curt Maggitt's Strip-Sack-Safety
Keeping the good vibes from the ZRO touchdown, Maggitt makes a phenomenal play to help the Vols continue the scoring surge at the end of the first quarter.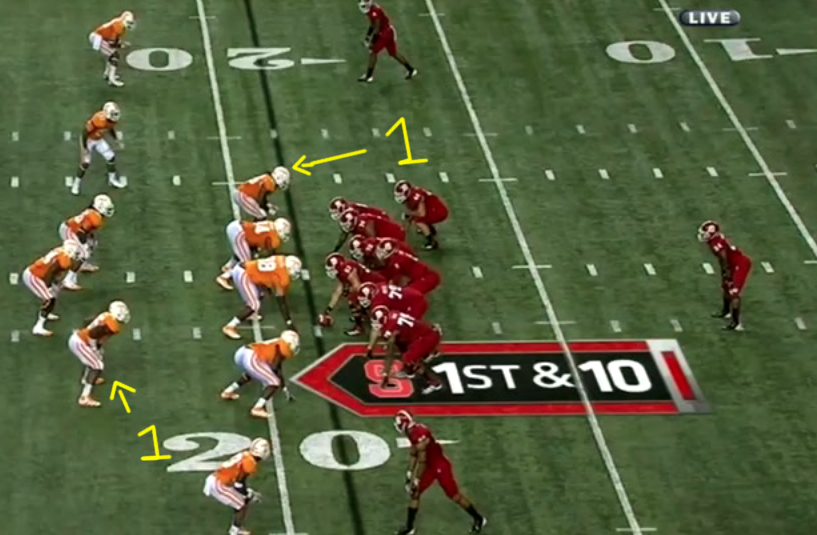 1. Notice Maggitt with his hand down and Jac standing up at linebacker. As we noted on the Waggner interception, CM is the much better rusher. Perhaps Jac can find a role playing in the second level. He's athletic and quick, so hopefully that can be more of his home.
Daniel McCullers had a relatively quiet night, but no one was quicker off the ball than he was. Most of NC State's players haven't even moved yet, and he's already across the line of scrimmage. But really, if you had 350 pounds resting on one hand, you'd want to get up quickly too.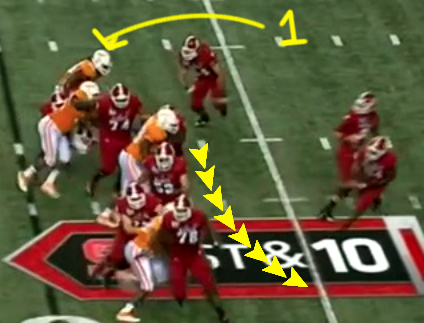 1. Maggitt with great discipline here. Flow goes away, he doesn't get sucked in, and recognizes the play action.
A very heady play by Maggitt to go for the strip instead of the big hit. He also smartly took Glennon to the ground, not allowing him to go after the fumble. This was an All-SEC type play from CM. Not only did he do everything right technique-wise, his speed in tracking Glennon down was downright terrifying. And you can't tell me that CM, with dreads and all, in a helmet doesn't remind you of this.
Marlin Lane Run
While the Vols didn't run the ball as well as some might have liked, this is about as well as you can block a play. Marlin Lane showed why he has a case to be the starting RB on this one.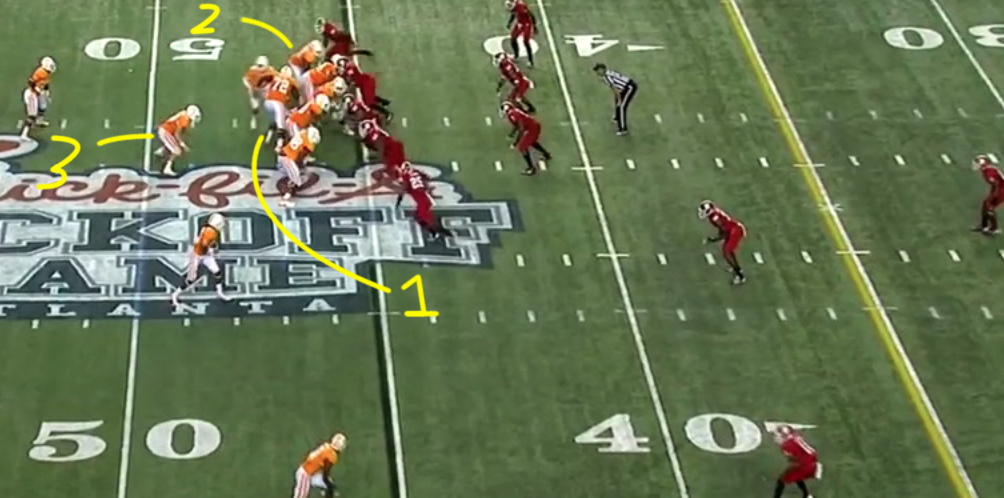 1. Zach Fulton is about to define what it means to kick out block.
2. Tiny crashes down, chips Dallas Thomas' man, and he'll continue on to the second level.
3. Ben Bartholomew (who probably graded out as high as anyone on Friday) lead blocks.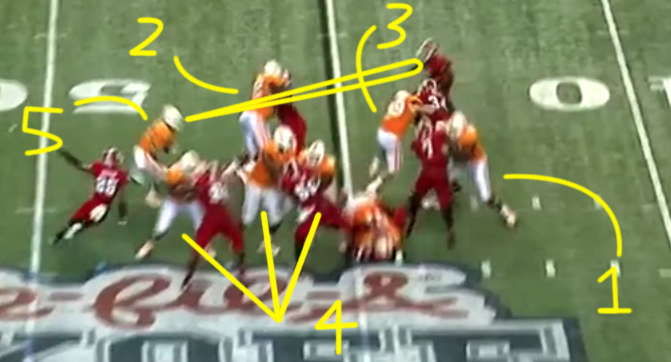 1. After helping Dallas Thomas, Tiny has already engaged the linebacker and turned him out of the running lane. This is the kind of road grade blocking that this team needs to be good in the run game.
2. Fulton pulls and gets a great kick-out block.
3. Bartholomew with an excellent isolation lead block.
4. The right side of the line has completely sealed the back side, ensuring no one disrupts the play from there.
5. Marlin Lane displays great vision and burst, getting through the hole and reading Bartholomew's block to spring him for the big gainer.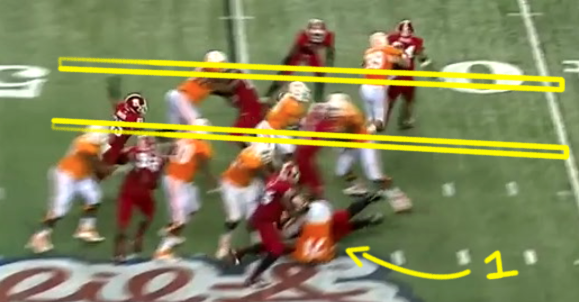 1. That's Dallas Thomas, who got rolled up along with his man as a result of Tiny Richardson simply pushing the guy with one arm. (ie, Tiny is a monster, just as we all thought). Not to take anything away from Dallas. He's doing flips on his guy. Literally.
A beautiful running lane for Marlin to run through, and perhaps the most well-executed play the Vols ran all night. Vince Lombardi would've been so proud.
Final Thoughts
There are a ton of positives to take away from the Dome. For one, and perhaps most importantly, several unproven players affirmed everyone's expectations and proved that they'll be able to help the Vols win ball games. There was enough success in the run game to allow a decently balanced attack. Even without Da'Rick Rogers, it's clear that this team will air it out early and often. The defense showed some growing pains, and there is certainly a need to tighten up technique and discipline going forward. However, you saw guys flying around and making plays, which will only help the offense with it's quick strike, go-for-the-jugular, mentality.
Above all, the most encouraging thing is that this team will attempt to be the aggressor on both sides of the ball. None of this wait-and-see, reactionary play calling. This team wants to dictate tempo and style-of-play, which should continue to make them a lot of fun to watch.