Let's take a deeper look at Tennessee's upcoming matchup against the NC State Wolfpack.
Throughout last season, we looked at UT film from the previous game, what went right, what went wrong, and the strengths and weaknesses of each team. Let's take this opportunity to look ahead to Tennessee's August 31st match up versus NC State.
Offense
As someone on FeelsLike98's message board pointed out, the secret is up on this Tennessee team. People are taking notice of the Vols' offensive power. NC State plans to counter that by using their heavily seasoned and talented defensive backfield. Returning starting safeties Earl Woff and Brandan Bishop, along with the intercepting master David Amerson, bolster a defense that has several weaknesses. While the top of the defense may be strong, it's the underbelly that Tennessee will need to attack. The Wolfpack has several vacancies at linebacker, and a decent defensive line at best. Let's take a look at how Tennessee can expose the Wolfpack D.
http://youtu.be/U-bSgi66qP8
North Carolina tries to run a trick play here, but that's not what we want to look at. Take a glance at the pre-play alignment.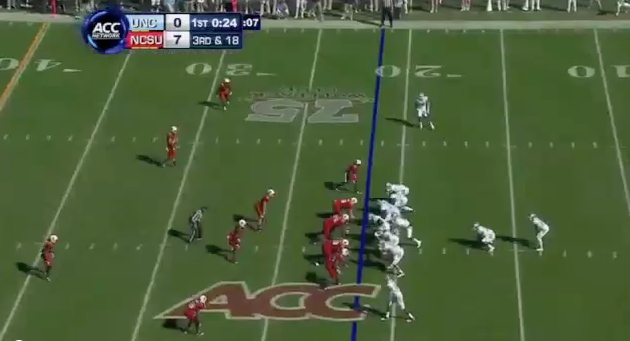 NC State generally runs a 4-3, but they're still very blitz happy. Very rarely do they only rush 4 down linemen. This is interesting, and they are successful at it because their talented backfield can cover any weaknesses. They typically run a cover 3. They also run a little twist with their secondary. They utilize shifting cornerbacks to the strengths of the field. One corner is a "field corner" and the other is a "boundary corner." Take a look below.
The field corner plays the wide side of the field. He is the better cover corner, being left on more of an island than the other defensive backs. The boundary corner plays the weak, shorter side of the field. It can be either because he has less talent or because he's a better run supporter. To make up for how much the field corner has to cover, they'll usually compensate with the safeties cheating to that side. All in all, a cover 3 takes away the deep ball. During the UNC game, the Wolfpack intercepted UNC several times deep. It's a tough scheme to crack, especially when you don't have the personnel for it. Cover 3's biggest weaknesses are intermediate and flat routes. You have to have quick, precise route runners, athletic, tall guys, and an accurate passer. Luckily, the Vols have all three. Especially with NC State's weaknesses at linebacker, Tennessee should exploit the middle and outside. Inside digs that find windows in the defense are one option. Think about Justin Hunter's long TD last year against Montana. Combo routes to the outside that draw the linebacker up and the corner deep will open up the middle. We utilized this several times in the Alabama game last year, with Worley connecting to Da'Rick on the sideline.
The danger with combo routes and digs is the time it takes to set them up. With a skilled defensive secondary, a lot of times it takes longer to develop, and the blitz gets to the QB. Here's where Tennessee's offensive line and running backs are going to have to be very disciplined. There's no mistake about it; NC State wants to put Bray on his back, and they want to do it often. Bray is going to have to be poised and calm. It'll be interesting to see if Chaney decides to roll Bray out of the pocket to buy him more time.
Whatever the case may be, Tennessee is going to have to establish the run game. I think everyone can agree based on last season's production. This linebacking corps is vulnerable, and I'm not sure their defensive line can help them out enough. With the increased dedication to the run game this past offseason, look for Tennessee to make a statement on the ground.
Defense
NC State's field general is Mike Glennon, and he proved his talent last season. The only problem there is his supporting cast; he doesn't have nearly the stable of talent to catch and carry the football that Tennessee does. He does have a few weapons that he'll try to target early and often. Tennessee's defense is the main question mark here. With so many questions surrounding the defensive scheme, it'll be interesting to see how UT plays the Wolfpack. Take a look at this play.
http://www.youtube.com/watch?v=Oz5au-PkYzs
UNC is going to come at Glennon with a corner blitz. He remains remarkably calm and collected, and delivers a nice checkdown throw. A series of poor tackling turns this into a huge gain. Tennessee should take note of this. The draw of Sunseri was his aggressiveness. The question will be, does UT have the players to play that style? If so, they can harass Glennon all day. If not, they could have several gains like this. Here's another play that Glennon makes with his composure.
http://www.youtube.com/watch?v=dsIhKx7I0ps
The throw is actually underwhelming, but the decision and accuracy are impressive. The main question Tennessee must ask themselves is this: do we have the playmakers and athletes to blanket them man-to-man? Because if Tennessee is going to blitz out of the traditional 4-3, some man-to-man is to be expected. However, the safer option would be to stay in a zone and blitz out of the 3-4. The contention there is simple; is the team good enough to run that, and can they stop the run with that? My guess would be you'll see a lot of sub formations and variations of the two, with a lot of nickel on passing downs. NC State's offensive line is good, but they have unproven running backs. They'd much rather Glennon beat us as opposed to anyone else on their team.
This game is an interesting matchup. It's the strengths of both teams against each other. Both are somewhat pass happy pro style teams, and both have untested defenses, give or take a few players on both teams.