UT-Bama prospectus
Lettuce remember back to the fall of 2008.
Phillip Fulmer's fifteen year reign as championship coach and beloved son of the Tennessee Volunteers was in flux. He was in year three of a rebuilding effort following the only real blemish on his resume in 2005. The natives had started getting restless in Big Orange Country as far back as the 2001 SECCG, and Fulmer's first losing season began to send things in a downward spiral. But then Phil brought the recently fired David Cutcliffe home, and the fanbase was somewhat quelled with a return to relevancy in 2006 and Atlanta in 2007. Despite losing a senior quarterback (Ainge) and Cutcliffe jumping ship for a second shot at a head job, there was reason for optimism heading into 2008.
But by late October, Tennessee was sitting at 3-4 with a dumpster fire on offense under new coordinator Dave Clawson. The points were few and far between with the two headed monster of Crompton and Stephens playing at a junior varsity level. Despite having a stable of two future NFL backs (including the current greatest on planet Earth), the offense couldn't muster enough to beat anyone with a pulse.
Meanwhile, Alabama was in year two of the Saban era after taking some lumps in year one. Through seven games, he had the Tide undefeated and primed for its first appearance in Atlanta since 1999.
When October 25th arrived, no one on the Hill expected to beat that Bama squad. The cries for Fulmer's head were at a fever pitch, but some thought he could survive with a solid showing against the Tide and a strong stretch run to close the season. Essentially, UT's second most iconic coach of all time was lying uncovered in his own grave.
Then this happened:
And that was it for Phillip Fulmer; the Tennessee native, the former Vol, and college football's greatest coach of the late Nineties. What you see in that video closed the lid on Fulmer's coffin and Steve Spurrier drove in the final nail a week later.
You see, for Tennessee's entire football history it has stood on its tiptoes to try and measure up against Alabama. They are the greatest college football program of all time, and generations of Volunteers have taken pride in being the South's second best football school. We have made a living out of cashing in during Bama's rough patches and beating them nearly half the time.
So when the Bammeroids took over Neyland that night on national television, it was clear that Fulmer would never compete with Saban. Phil had nothing else to point to that season, and that was it for him. It didn't matter that he won a natty and two SEC's, or that he was orange to the core. As head coach at the University of Tennessee, getting embarrassed by Alabama puts you on the fast track to unemployment. Let's take a look at the other three coaches UT has fired since Neyland retired:
- Bowden Wyatt beat or tied Bama six straight times after being hired. The next two years he lost to the Tide by a combined 61-10. Toast.
- Bill Battle beat Bama on his first try (evening the series at 23 apiece) and won the Sugar Bowl in 1970. Six winning seasons later, and with a 59-22-2 overall record, he'd yet to beat them again. Donezo.
- Johnny Majors eventually broke through in 1982 and beat Bama four straight, capped off by the '85 SugarVols. His first SEC title that year allowed him to survive a rough three year stretch of football. Then in 1989-90 he went for his second and third SEC titles, two high profile bowl wins (Cotton and Sugar), two top 10 finishes nationally, and yet he still couldn't beat Bama again. When he failed to do so in either of the following two seasons? Pack your bags, John.
Which brings us here: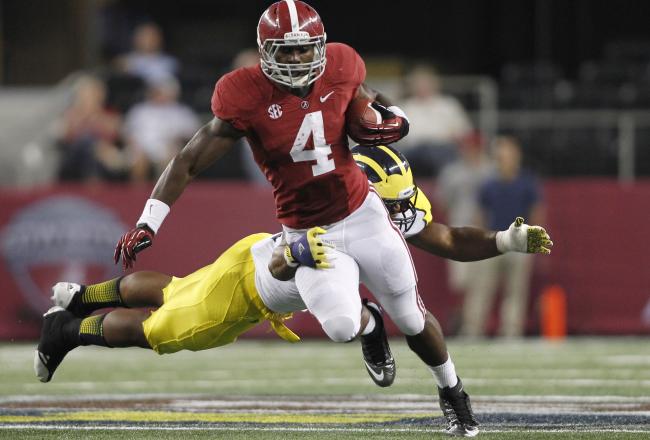 It is so very clear where we're headed. Derek Dooley, for all the claims of the disaster he took over, his toxic waste level luck, and the improvement he's made to UT's roster, cannot survive in 2012 what Phillip Fulmer couldn't in 2008. There is simply no way.
He's lying in his grave just like Fulmer, only he has zero resume points working for him.
Yes, he took over a program that had just been napalmed.
Yes, he has caught bad break after bad break.
Yes, Tennesse's roster looks signifcantly better than it did in January 2010.
Yes, he has had this 2012 squad right there till the end in its big games thus far.
Yes, it is unfair that he works at a school that measures itself against a school where Nick Saban works.
But none of that matters. None of that is a tangible, stand-up-in-court defense of Derek Dooley's coaching performance. I hope this team can steal a few punches against Alabama on Saturday. They play with great effort and there are several pieces to the puzzle that are actually in place. But as bad as the Vols are on defense, as good as Alabama is everywhere, and as little as Dooley has shown in the way of grinding out SEC wins, Vol fans can already hear an encore of Rammer Jammer 2008 coming.
If and when it happens, this 2012 edition of the UT Vols, try as they might, will be broken. They will stagger into Williams-Brice on the 27th, Steve Spurrier will grab his Marcus Lattimore sized sledgehammer, and Derek Dooley will be put to rest. I hate it because I like the guy. He's smart, he's Southern, and he's a good football coach who just wasn't prepared to lead a team at this level yet.
And here we are again. FeelsLike08.
Big Orange Country is trying to convince itself that Jon Gruden wants to coach again, in college no less, and that his wife has a large degree of input into his career choices.
We are praying that Big Jim Haslam hasn't blown his entire load on UT's new business building and the Cleveland fucking Browns.
We are hoping against hope that Knoxville native and UT grad Charlie Ergen, founder of Dish Network and the 46th richest person in America (net worth of $10B), might care enough about Volunteer football that he would throw a spare millie or two towards UT's coaching package.
We are the most tortured fanbase among college football's elite at this point, and once again we find ourselves trying to emulate Bama by hiring a coaching titan to pull us out of a hole. So to all the Bammeroids making the trek to Knoxville this weekend, don't think we don't know what's coming. We are well aware. Just be thankful you pooled together enough money to grab the right guy at the right time. Perhaps we will do the same this time around.
Until then, fuck you and your entire cretin fanbase. Fuck your evil genius coach who may or may not get the itch to test his mettle in the League again. Fuck the 25 prototype running backs on your roster and above all, fuck that racist drunk Bear Bryant who couldn't beat Neyland in seven tries and openly rejoiced when the General retired.
Go ahead and get your Rammer Jammers in on Saturday. We'll be back soon enough.